NEW!
VISA-FREE!
Chernobyl: Accidental Wildlife Sanctuary
Exclusive wildlife trips to the BELARUSIAN part of the Chernobyl zone
Visits to the unique closed nature reserve in the Zone are now possible with APB-Birdlife Belarus!
The accident at Chernobyl nuclear power plant resulted in complete abandonment of a huge territory in Belarus as well as land on the Ukrainian side, creating the largest ever experiment as to what nature does when people leave. 30 years later the area is the nearest that Europe has to a wilderness and gives key lessons on how wildlife doesn't need us!
The zone is a classic example of an involuntary park. Its beauty cannot be overstated.
In 1988, two years after the Chernobyl disaster, a closed nature reserve, Palieski State Radioecological Reserve, was established in Belarus to enclose the most affected territory of the country. While the area will remain inappropriate for human habitation for hundreds more years, wildlife has since flourished there.
The reserve hosts many rare and endangered species, which thrive here thanks to the virtual absence of humans. The area has seen returning Bears, rebounding Wolves and Boars and prospering herds of European Bison and Przewalski's Horses released in the Zone after the accident. Camera traps in the area have captured evidence of the reappearance of extremely rare native Lynx. The Reserve is now home to the rare Greater Spotted Eagle, Eagle Owl and White-tailed Eagle.
Undisturbed by humans, the populations of previously scarce animals (such as Badger, Black Stork, Short-eared Owl, Elk, Black Grouse, Red Deer, Least Weasel, and Beaver) have multiplied enormously.
The Reserve is one of very few areas in Europe where, without any human regulation, the populations are subject to their natural dynamics. An amazing illustration is the stable number of Wolfs (80-100) and a growing number of Elks (around 1990) in the Reserve.
The reserve is not only one of the biggest in Europe (216,093 ha) but also one-of-a kind in the world.
Imagine empty villages 'swallowed' by vegetation and occupied by new wild residents, abundant forests, lush grass, myriad flourishing species and a real chance to meet Elk or Wolf on your way. Come to see how wildlife has taken over once lively human habitats! This would definitely be a trip of a lifetime for you!
Short-term visits to the Zone are totally safe. The Reserve is really strict about the safety measures for its visitors.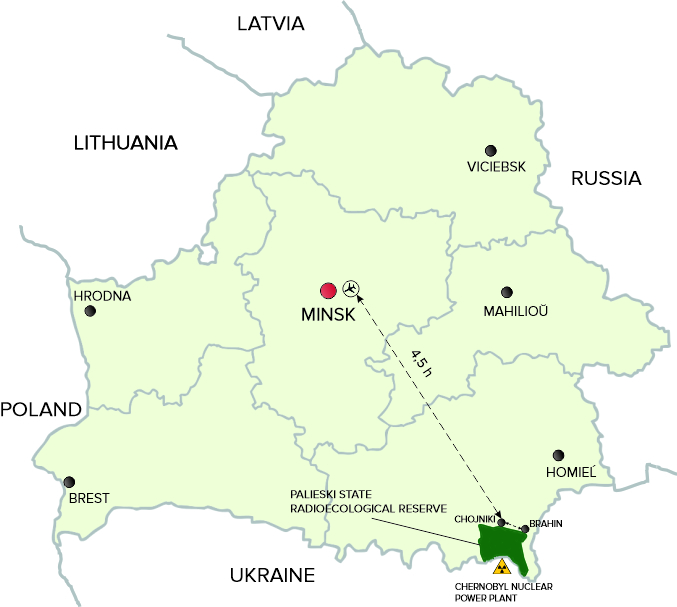 Visa-free:
Citizens of 80 states (EU, USA, etc.) can stay in Belarus visa-free for up to 30 days if they come and leave via Minsk National Airport
Travelling with us you make a difference!
All our profits are reinvested in nature conservation in Belarus. Booking through us you will be directly contributing to the work that APB-Birdlife Belarus does to protect the species and habitats of Belarus.
Contact us to learn more about the possibility to visit the Belarusian part of the Chernobyl zone!